⚡️Let's look at India's next decade
5 articles that can help us shape how India's next decade is going to be
Last week, we discussed if the book reading culture is declining. Today's essay is designed differently. It is a compilation of a few trends that can help us think about India's next decade.
I'd love your feedback about this article. Please fill out this 2-minute survey.
---
Zooming out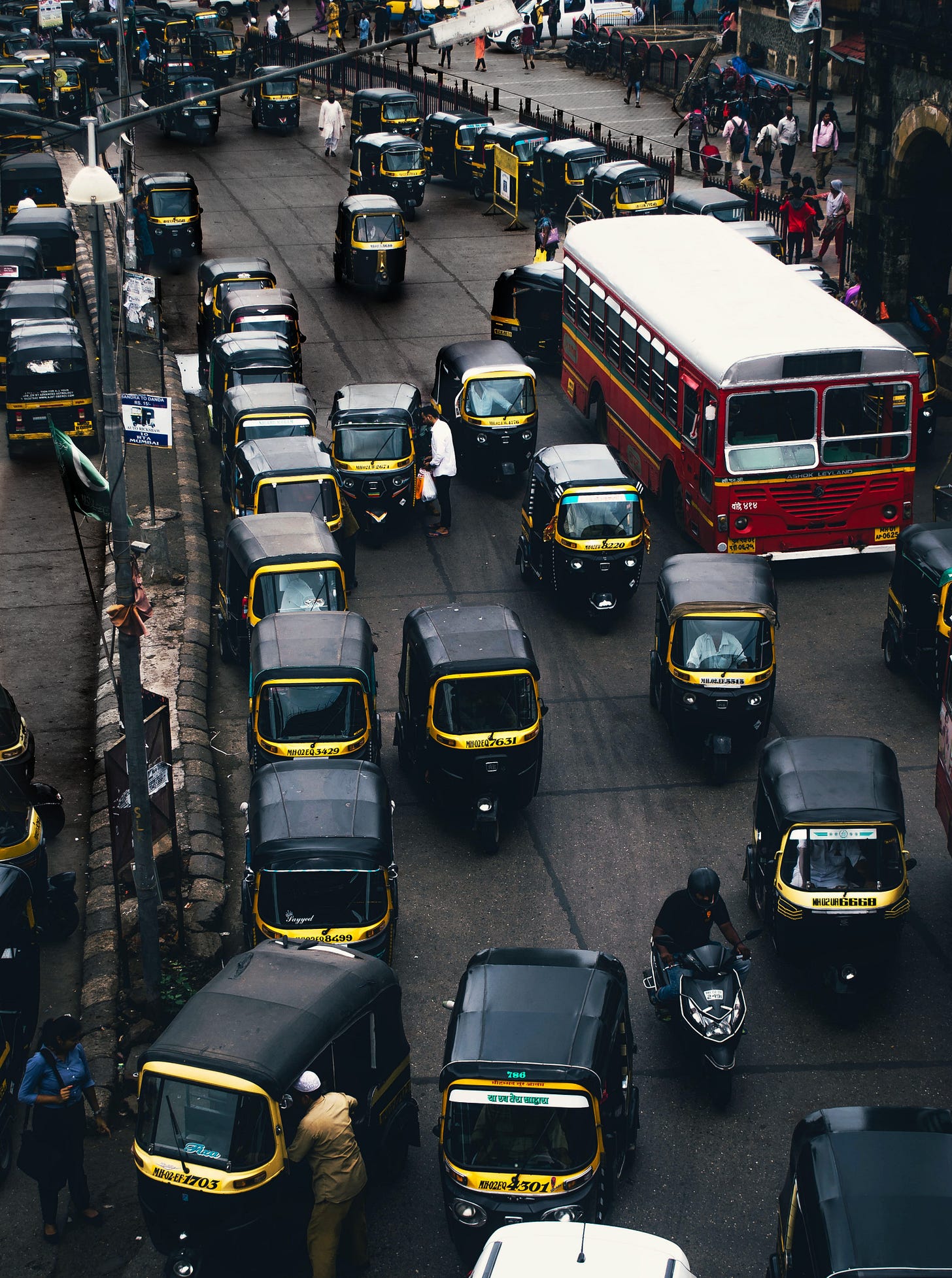 Photo by Atharva Tulsi on Unsplash
That technology is shaping India is a no-brainer. From tech products like Google, YouTube, WhatsApp, etc. becoming a part of our daily vocabulary, to the growth in internet usage, India has taken a huge leap last decade.
Almost 300 million rural internet users came online in the last decade. Google is dedicating an entire program, called The Next Billion, to an audience who is coming to the Internet for the first time. Several web companies are thriving and showing double-digit growth, all thanks to this huge audience coming online.
Let's look at some of the trends in detail.
Zooming in
To dig deeper into what's possible for the next decade, I'm currently compiling a list of resources that can help us predict. Here are some helpful articles -
India 1, India 2 and India 3 by Sajith Pai - 
Sajith Pai did a great job of classifying India into three distinct user types, which he compares with different countries around the world. 
India 1, the affluent group of people, those having the power to spend on expensive brands, represent a market similar to Mexico. By comparing this market with Mexico, Sajith mentions how India's startups have a market sizing problem.
India 2, the emerging middle class of India, which is the bulk of the market, is being compared to the Philippines by Sajith. To win in this market, Sajith mentions that one has to get rid of their attachment to English and win the vernacular market.
India 3, which Sajith compares with Sub-Saharan Africa excluding South Africa, is an interesting market. I think this market is the ultimate test of user experience designers, and I am curious to see what Google does with its next billion users initiative.
You can read the original article here. 
Searching for Superman by Inc42
Similar to WeChat in India, the race for finding a super-app in India is on. A super app is an app that people use tens of times every day, to facilitate everything from entertainment, bookings to payments and networking. 
With the free market India offers, there are almost a dozen apps that are running in this race, the top two being WhatsApp and PayTM. 
The race is interesting to monitor, but I think we will never see a clear winner of this race, which is not a bad thing! The more the competition, the better the services for a consumer.
Read the full article here.
The time for OTT is here:
Over the top entertainment companies like Netflix, Prime Video, Hotstar, etc. are heavily focusing their efforts on India. The reason is obvious - one of the fastest-growing internet markets. With traditional television moving online, it will be very interesting to see how our audience adapts to this new form of media. 
Hotstar set the world record for the highest number of concurrent streaming users during the Cricket World Cup Semifinal in 2019, with as many as 25.3 million users streaming at the same time.
The video OTT market in India is estimated to be INR 21.5 billion with advertising contributing up to 80 percent of the total revenue.
You can read the full article here.
UPI hits 1bn transactions and goes global by inc42
Unified Payments Interface, the platform developed by the National Payments Corporation of India (NPCI), a governmental organization, has shown tremendous success in the digitization of financial transactions in India.
The beauty of UPI lies in the common infrastructure it provides to private companies to build apps on top of. All you need to pay someone is their phone number or UPI ID. The transactions are instant, with no lag. In this aspect, India has leaped ahead of the most advanced countries in the world. 
Earlier this year, the NPCI decided to go global. The NPCI is working with Singapore to enable UPI transactions in the country. 
Read the full articles:
The growth of the gig economy by QZ India:
With technology, employment opportunities are changing. Dunzo, Ola, Uber, Swiggy, and Zomato are leading an organized gig economy, where an individual has total flexibility over their work hours and thus, their earnings. 
At the same time, freelancing is growing in popularity, with as many as 24% of global gig workers coming from India. Startups like TapChief, Frapp, FlexingIt, and Upwork are growing to tap this market.
In the next decade, we will see a rise in unconventional jobs, which could lead to greater incomes for individuals. 
Read the full article here.
---
Next week, I'll write more about sustainable cities. Recently, I spoke to the founder of Utopiatech, a Mumbai-based company working in the smart lighting space.
I'd love your feedback about this article. Please fill out this 2-minute survey.
Please share this essay with your friends and family.
Thanks for reading :)
Hemant